Plagiarism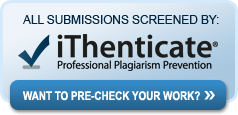 4OR has a strict policy against plagiarism. All papers are screened against plagiarism using iThenticate. 4OR is a member of CrossCheck by CrossRef and iThenticate. iThenticate is a plagiarism screening service that verifies the originality of content submitted before publication. iThenticate checks submissions against millions of published research papers, and billions of web content. Authors, researchers and freelancers can also use iThenticate to screen their work before submission by visiting www.ithenticate.com.
Some cases of plagiarism are reported below.
Papers with full details on the following cases.

A first case of plagiarism: Danut Marcu.

Another case of plagiarism: M. Sreenivas and T. Srinivas.
In November 2007 the following new case was observed.
In august 2009 the following letters were received, apparently disculping Dr. Srinivas SIAM report on the investigation of plagiarism by Sreenivas and Srinivas that confirms our findings.
Banned from publication in 4OR:

Danut Marcu
M. Sreenivas
T. Srinivas
Seyed Nima Mirabedini
Hassan Mina
Jinfang LIU
Finance and Economics School of Hunan University of Technology, Zhuzhou, China
R. Sophia Porchelvi
Department of Mathematics, ADM College for Women (Autonomous), Nagapattinam, Tamilnadu, India.
K. Sathya
Department of Mathematics, Poompuhar College (Autonomous), Melaiyur, Tamilnadu, India.
R. Irene Hepzibah
Department of Mathematics, AVC College of Engineering, Mayiladuthurai, Tamilnadu, India.