Cases of unethical behavior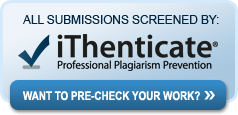 4OR has a strict policy against plagiarism. All papers are screened against plagiarism using iThenticate. 4OR is a member of CrossCheck by CrossRef and iThenticate. iThenticate is a plagiarism screening service that verifies the originality of content submitted before publication. iThenticate checks submissions against millions of published research papers, and billions of web content. Authors, researchers and freelancers can also use iThenticate to screen their work before submission by visiting www.ithenticate.com.
Some cases of plagiarism are reported below.
Papers with full details on the following cases.

A first case of plagiarism: Danut Marcu.

Another case of plagiarism: M. Sreenivas and T. Srinivas.
In November 2007 the following new case was observed.
In august 2009 the following letters were received, apparently disculping Dr. Srinivas SIAM report on the investigation of plagiarism by Sreenivas and Srinivas that confirms our findings.
A surprising, elaborate cheating scheme is reported in the editorial "A brand new cheating attempt: a case of usurped identity", published in the December 2016 issue of 4OR.
Banned from publication in 4OR for plagiarism:
Danut Marcu
M. Sreenivas
T. Srinivas
Jinfang LIU
Finance and Economics School of Hunan University of Technology, Zhuzhou, China
Yan Li (Hebei University of Technology, Tianjin, China)
Yangyang Wang (Hebei University of Technology, Tianjin, China)
Youxi Wu (Hebei University of Technology, Tianjin, China)
Zhendong Wang (Northwest University, Xi'an, Shaanxi, China)
Tianlin Jin (Center of China Urban Economic, Peking University, Beijing)
Qingda Wei (School of Economics and Finance, Huaqiao University, Quanzhou, 362021, P.R. China)
Xian Chen (School of Mathematical Sciences, Xiamen University, Xiamen, 361005, P.R. China)
Banned from publication in 4OR for usurpation of identity:
Alireza Noruzi (Islamic Azad University, Ardabil, Iran)
Hasan Jafari (Islamic Azad University, Ardabil, Iran)
Tohid Banki (Islamic Azad University, Bilesuvar, Moghan, Iran)
Mohsen Mohammadi (Payame Noor University, Tehran, Iran)
Banned from publication in 4OR for self-plagiarism, simultaneous submission, or attempt at multiple publication:
Ali Gharaei (College of Engineering, Alborz Campus, University of Tehran, Tehran, Iran)
Fariborz Jolai (School of Industrial Engineering, College of Engineering, University of Tehran, Tehran, Iran)
Abdulkarim Hassan Ibrahim (King Mongkut's University of Technology, Thailand)
Poom Kumam (King Mongkut's University of Technology, Thailand)
Auwal Bala Abubakar (King Mongkut's University of Technology, Thailand)
Jamilu Abubakar (King Mongkut's University of Technology, Thailand)
Abubakar Adamu (African University of Science and Technology, Abuja, Nigeria)
Ahmad Kamandi (University of Science and Technology of Mazandaran, Behshahr, Iran)
Alireza Nazemi (Shahrood University of Technology, Iran)
Fatemeh Talebi (Shahrood University of Technology, Iran)
Ankhbayar Chuluunbaatar (National University of Mongolia, Ulaanbaatar, Mongolia)
Enkhbat Rentsen (National University of Mongolia, Ulaanbaatar, Mongolia)
Can Jiao (University of the Chinese Academy of Sciences, Beijing, China)
Yeran Tang (Industrial and Commercial Bank of China, Beijing, China)
Xiaoyan Zhu (University of Chinese Academy of Sciences, Beijing, China)
Seyed Rahim Moosavi (Department of mathematics, Yadegar-e-Imam Khomeini (RAH) Shahre Rey Branch, Islamic Azad University, Tehran, Iran)